The low budget 40W High Performance Hybrid SDR transceiver for the geeks, tinkers but also for DXers and field operators ...it is the new SBITX V2.
The SBITX V2 is an open source, low budget, high performance Hybrid SDR for the 21st century radio amateurs by HF Signals Co. Powered by an internal Raspberry Pi 4, it has CW/RTTY/PSK31/SSB and other digi modes with logging software, macros, spotting in-built.
- Big & compact: Although compact, it has the largest display shipped with a transceiver, a capacitive, touch screen of 7 inches.

- All software to run modes like RTTY, PSK31 is integrated into the radio, without any messy configurations, setup, etc. to deal with.

- It switches soundlessly from transmit to receive and between bands due to its electronic of filters and T/R switching.

- Band-stacking VFOs with 4 memories on each of the 8 bands, 9 convolution digital filters for the best audio experience.

- High performance electronics with a passive-FET front end, 8 crystals' filter and a low phase noise, temperature compensated crystal oscillator.

- The built-in, editable macros that make it a breeze to work DX or compete in contests.

- Add an HDMI monitor or use the browser from your PC/tablet to have a large screen experience of all the features of this amazing radio.
- The SBITX V2 will neatly slip into your backpack with its compact, slim size of 10 inches x 6 inches x 2 inches and weight of under 4 pounds (less than 2 KGs) with room to spare. With its 40W transmit output, it is the most powerful radio you can put into your backpack.
- It is armed with an XT60 power connector that you can use with lightweight 3S LiPo batteries to provide hours of field operation (The receive current is 600mA, the transmit current can go up to 8A depending upon the drive settings).
- The built-in mic and the on-screen keyboard, macros make it easy to operate all modes, voice/digital or CW without a key, mic or an extra computer in the field.

- It has an accurate real-time clock to time digi transmissions and log the contacts made.

- The built-in logger eliminates the need to carry the logbook too.
Low budget & High performance radio
- Bulletproof hybrid superheterodyne with passive-FET KISS mixer

- Brick wall crystal filter with 8 crystals

- 80dB close-in dynamic range, 90dB wide dynamic range

- Low phase-noise, temperature compensated reference oscillator

- 30-40W output on all bands from 80m to 10m

- Transmit IMDR of 30dB (from PEP levels)

- Silent, fan-less operation

- Noise-less electronic T/R and band switching

- In-built 2-tone transmitter to tune the antenna and measure IMD
CW/RTTY/PSK31 with logging and Macros
- Totally noise-less, fast electronic T/R without noisy relays

- In-built N1MM style Macros support Running and S&P

- Uses Fldigi with its high-performance decoder in the background

- Raised cosine CW keying with perfect shaping

- 9 Ring-free Convolution filters from 100Hz to 3kHz

- Use the on-screen touch keyboard or add a USB / Wireless keyboard for effortless CW sending if needed
Logger and Logbook

The SBITX V2 has a logger and logbook with RDMS support. N1MM style logger with macros and automatic logging of contacts with the frequency, mode, time automatically filled in. Use macros on CW / RTTY / PSK to send out standard messages with the press of a button / key if needed.
Telnet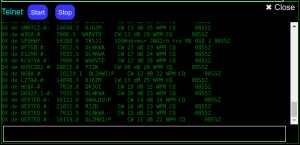 See the spots, DX clusters on the radio with in-built telnet to DX Clusters, Reverse Beacon, PSK Reporter, etc.
Hackable code, skinnable GUI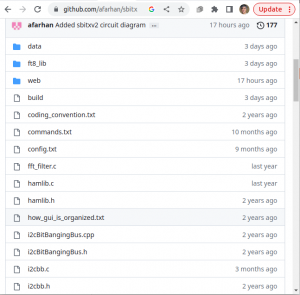 Write custom apps in JavaScript without learning SDR coding.

Open source, hackable SDR written in C.

Develop your own skins and UI in HTML/CSS/JavaScript.
More modes and functions planned.

Access and operate your SBITX V2 over the home Wifi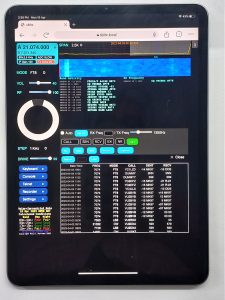 With your SBITX V2 connected to the home Wifi, just open http://sbitx.local on the browser of your phone/tab/pc and start operating your radio! With the bigger screen of your PC or tablet, you can have an expanded user interface of the SBITX V2.
Accessibility & Command line support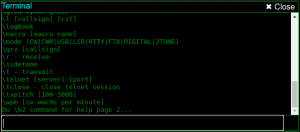 The SBITX V2 project is committed to providing eye-free usage for the SBITX V2. As a first step, this release features a command line interface that provides all the features of the GUI.
Brief Specifications


Well, it is a different approach to the GUI user interface, and the radio as same as the software itself is still under development and improvement. S
o, we expect some bumps on the road for early adopters. However, having a large 7 inches screen and RPi on board will make this a fine radio to use in the shack.
Anyway, it is an interesting project. Time will tell, how the radio works and if it proves itself in practical operation on the bands.
...ONE MORE THING
HF Signals was founded by Ashhar Farhan, VU2ESE.
HF Signals Co. is based out of Illinois, located at
44W, Doral Drive Apt 202,
Glendale Heights, IL 60139, USA.
HF Signals manufactures all radios in Hyderabad, India and they works with a collective of workers. Each of the toroids is hand wound in India. This provides these working women with a livelihood. The assembled boards are then DC checked. A final RF check and tune-up is performed to check the receiver's sensitivity as well as transmitter's output before being shipped. Each board is individually numbered and signed by a radio ham who tests them for performance before they are shipped.
There is an active and very informative forum for learning and getting help that is entirely driven by the builder community. Join the group on https://groups.io/g/bitx20
IT IS NOT CHINESE JUNK WITH NO SUPPORT!